Fortnight of 9 to 22 May 2022
More words to woo
From Ambassador Xiao Qian's op-ed published in The Australian Financial Review on 12 May 2022 (available on the Chinese Embassy's website here):
"It is our belief that the common interests between China and Australia far outweigh our differences, and we have every reason to become partners of mutual benefit. We expect the Australian side to view China and China's policies in an objective and rational light, act in the interests of Australia and its people, adopt a positive policy toward China, and work with China in the same direction with mutual respect as the political foundation, so as to push China-Australia relations back on the right track at an early date."
Quick take:
This was the second of a pair of op-eds that Ambassador Xiao published with The Australian Financial Review on 11 and 12 May. (The first of which is available here and on the Chinese Embassy's website here.) Both op-eds reemphasised and expanded on the positive rhetoric about the Australia-China relationship that we've seen from Ambassador Xiao since he arrived in Australia in January. These op-eds also fit into a longer record of more optimistic messaging from Chinese diplomats in Australia that stretches back to the end of 2021. (Needless to say, despite this relatively friendly tone from the Chinese Embassy in Canberra, the Ministry of Foreign Affairs spokespeople in Beijing have persevered with their familiar criticisms.)
Ambassador Xiao's op-eds were followed by a Xinhua article on 15 May that struck an unusually upbeat note regarding ties between Victoria and China and was featured in the People's Daily—the official newspaper of the Central Committee of the Chinese Communist Party (CCP). This article was also spotlighted on the website of Chinese Embassy in Canberra. Meanwhile, The Guardian's Daniel Hurst reported on 18 May that Chinese diplomatic sources had said Beijing's "wish to improve the relationship" was "genuine". (Premier Li Keqiang's congratulatory message on 23 May is the latest and most significant example of this shift in messaging.)
Despite the change in tone, it seems doubtful that a dramatic improvement in bilateral ties is in the offing. Ambassador Xiao's op-eds suggest that Beijing is still waiting for Canberra to shift policies or at least make amends on issues that displease China but are—at least in these op-eds—unspecified. As the Ambassador made plain, his government expects Australia to take an "objective and rational" view of his country and "adopt a positive policy toward China." This presumably implies that in Beijing's view the new Australian government shouldn't simply pursue a business-as-usual approach to China policy by replicating the positions of its predecessor.
But even with a change of government, Canberra's China policy positions are unlikely to change and so are likely to be left wanting in Beijing's eyes. Notwithstanding the real possibility of a more cautious rhetorical overlay, the strong bipartisan consensus on key elements of China policy (and China-related policy) means that the new government is likely to take many of the same positions that have most aggravated the Chinese government. This makes it unlikely that Ambassador Xiao and his colleagues will see the change they're looking for from Canberra.
Direct talks on the table?
Former Minister for Foreign Affairs Marise Payne speaking at the National Press Clubs' 2022 foreign affairs debate:
"I have said at every opportunity that Australian ministers, foreign ministers, prime ministers, trade ministers, finance ministers, treasurers, are open and available to engage with our colleagues in Beijing. And, of course, we are. But that opportunity has not been availed by the government in Beijing, and ultimately Australia continues to indicate that we are open to that constructive engagement."
Quick take:
Despite the entrenched barriers to a big positive upswing in bilateral ties, the warmer messaging and the change of government may still foretell one tangible improvement in relations: a resumption of some form of direct high-level political contact (beyond congratulatory missives). If I was going to take a punt, I'd say that there's a good chance that there'll be a meeting between Australia and China at the ministerial level or above before the end of 2022. A leader-level visit to Canberra or Beijing seems off the table for the foreseeable future (for a wide range of COVID-related, political, and diplomatic reasons). But a quick bilateral between Prime Minister Anthony Albanese and President Xi Jinping or Premier Li at a multilateral gathering seems possible (assuming, of course, that China's leaders resume their pre-COVID international travel).
East Asia's summit season later this year might provide a few opportunities for such a meeting, with the East Asia Summit, G20, and APEC all taking place in South-East Asian counties in November this year. With these meetings potentially coinciding with the CCP's 20th Party Congress (dates still TBC), Prime Minister Albanese might meet not meet a Chinese government representative as senior as President Xi or Premier Li. But the Prime Minister might nevertheless be able to instead meet a more junior government representative, as former Prime Minister Scott Morrison did in October 2019 when he met Vice President Wang Qishan, or perhaps a Chinese minister, as former Prime Minister Malcolm Turnbull did when he met Foreign Minister Wang Yi in February 2017.
In the absence of a meeting between Prime Minister Albanese and a senior Chinese leader or official, contact at the ministerial level seems feasible. This might take the form of an in-person meeting or even just a phone call between ministers, which hasn't happened since January 2020 when former Minister for Foreign Affairs Payne spoke to her Chinese counterpart Wang over the phone. Some form of direct engagement at the ministerial level seems most likely in the foreign affairs and trade portfolios, perhaps on the side-lines of one of a number of multilateral regional engagements coming up in the next six months, which include the East Asia Summit Foreign Ministers' Meeting and the ASEAN Regional Forum Ministerial Meeting.
Beyond the recent stream of more positive rhetoric, on what am I basing this (very) tentative prediction? Partially, it's the unrelated factor of the ramping up of in-person diplomacy. With COVID restrictions easing further and more diplomatic gatherings happening *gasp* in real life, the barriers to face-to-face meetings between Chinese and Australian representatives are lowered (after all, they'll all be working many of the same conference rooms). Beyond that, it also appears that Beijing is interested in exploring whether the election of a new government in Canberra might be an opportunity to incrementally improve bilateral relations. This doesn't necessarily mean that we're likely to see regular leader- and ministerial-level engagements and the free flow of Australian exports into the Chinese market. But my guess is that it at least means Beijing would be willing to have some form of direct contact with an Australian minister or leader to discuss the relationship.
But isn't this kind of direct contact still unlikely given that it'd be inconsistent with China's apparent preconditions for dialogue? Possibly. But even if Canberra doesn't agree to preconditions, it's entirely possible that these preconditions were reserved for the previous government specifically, thereby opening the way for dialogue with the new government. Alternatively, Beijing might justify a once-off ministerial- or even leader-level meeting by saying (to itself) that one instance of direct discussions doesn't constitute full-blown and formal dialogue and so it isn't actually abandoning the preconditions at all. I'm clearly way too down in the weeds at this point. Suffice it to say, I think the atmospherics augur well for some kind of high-level direct discussions this year.
That said, it's entirely possible that there won't be any high-level contact between Canberra and Beijing this year. (Please mercilessly remind me of my erroneous prediction if we end the year without direct words being exchanged between an Australian prime minister or minister and a senior Chinese representative.) Regardless, the longstanding points of bilateral tension mean that the relationship is unlikely to take a sharp positive turn even if this contact occurs. But I'd still be surprised if 2022 comes to a close without some form of meeting or call.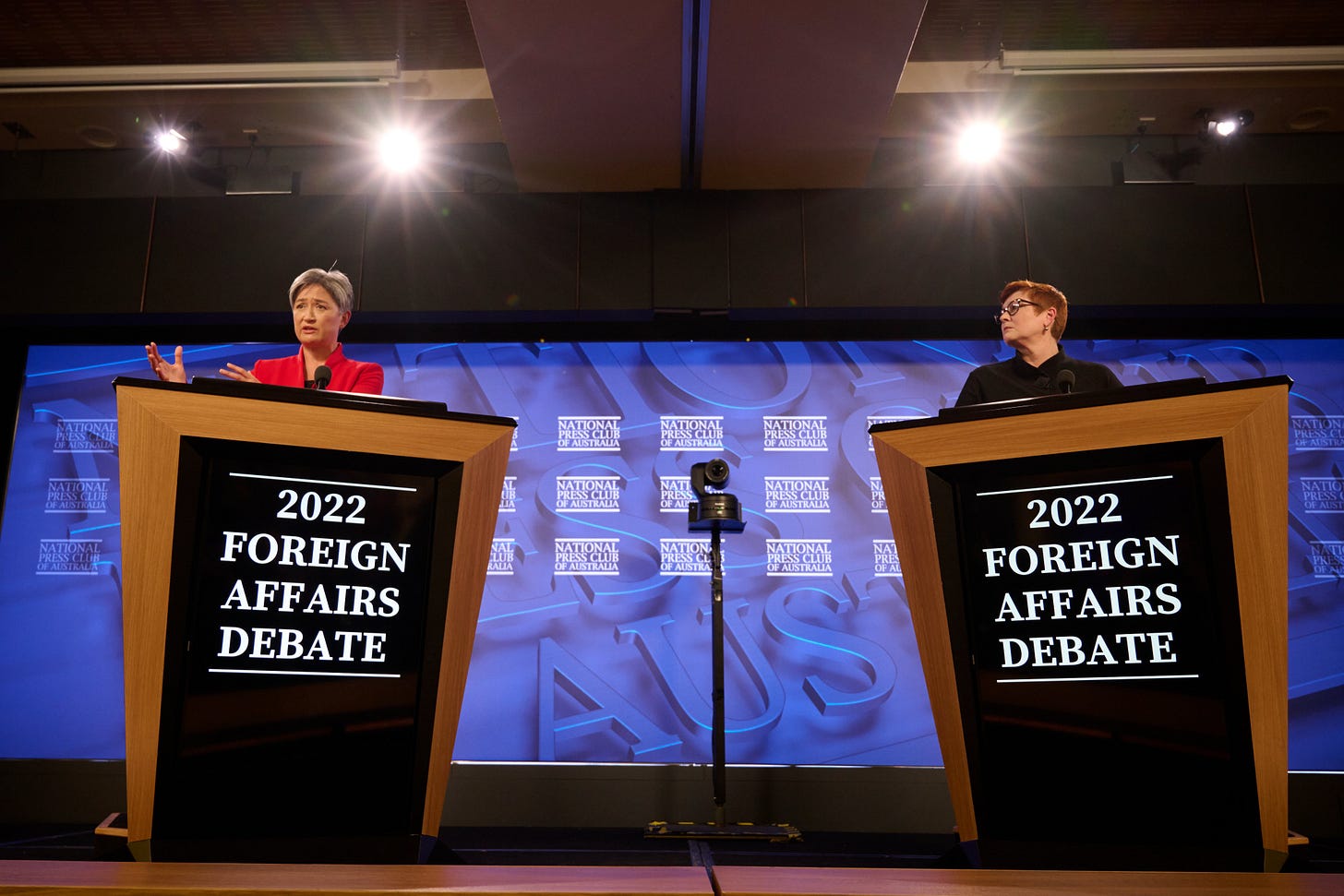 Bigger forces at play
From the joint 21 May statement from the American Institute in Taiwan, the Australian Office, Taipei, the British Office Taipei, the Canadian Trade Office in Taipei, and the Japan-Taiwan Exchange Association:
"We … wish to reaffirm our support for Taiwan's meaningful participation in the work of the World Health Organization and Taiwan's participation as an observer in the World Health Assembly."

…

"The World Health Assembly would benefit from Taiwan's world-class expertise, and Taiwan can help the World Health Organization live up to its commitment to 'health for all.'"
Quick take:
Despite all the positive atmospherics of recent messaging from the Chinese Embassy in Canberra and other sources (see above), a range of deep and enduring disagreements still divide the Chinese and Australian governments. These include familiar and longstanding disputes over the application and observance of international law in the South China Sea, human rights abuses in China, and the role of security considerations in Australia's foreign investment review processes, among many others. A change of government in Canberra and warmer rhetoric from Chinese officials are unlikely to bridge these divides, especially since the new Australian government has backed in their predecessor's approach to many of these policy issues.
Added to this though, there are also emerging and intensifying points of contention. Among others, these include Australia's stronger diplomatic support for Taiwan, dramatically diverging views of the appropriate security role for China in the South Pacific, and Australia's possible use of Magnitsky-style sanctions against Chinese officials. This is not to say that Canberra should, for example, avoid coming out in support of Taipei's participation as an observer in the World Health Assembly. (Although it's an argument for another time, I'm personally supportive of a range of relatively low-risk political, diplomatic, and geoeconomic measures to support Taiwan, provided they're consistent with Australia's longstanding one-China policy.)
But it is to say that regardless of the good reasons for elevating positive diplomatic messaging on Taiwan, this and a range of other Australian policy decisions are likely to create natural limits on how much the Australia-China relationship can improve. And that's likely to remain the case even with a veritable forest of rhetorical olive branches from Beijing greeting the new government in Canberra. So, not only will longstanding points of disagreement between Australia and China likely keep ties relatively cool, but a growing roster of recent developments are liable to further chill the relationship.
---
As always, thank you for reading and please excuse any errors (typographical or otherwise). Any and all objections, criticisms, and corrections are very much appreciated.